2017 GIG GUIDE

Welcome to the Resistance 77 gig guide page!

Please check back regular as gigs will be added as they come through.

Hope to see you at one soon!!


Currently showing 2017 gigs
Saturday 18th November 2017
Friday 6th October 2017 - Sunday 8th October 2017

The Great British Alternative Music Festival celebrates the best in Punk, Ska and New Wave. Check out legends such as Ruts DC, The Skids, Resistance 77, The Vapors, Lene Lovich and many more!

Veteran rockers might appreciate the fact that all festival stages are indoors, in the warmth, and served by the many bars around the resort. Big kids can also make use of the coastal venue's amenities, including an indoor swimming pool, climbing wall, spa, go-karting and ten-pin bowling alley. Virtual Festivals
Bultins, Skegness
Roman Bank, Skegness PE25 1NJ
Friday 8th September 2017 - Sunday 10th September 2017
IT'S BACK ONE OF THE FRIENDLIEST NEW SMALL FESTIVALS AROUND.
40+ BANDS 3 DAYS , ALL GENRES !! EXCITING NEWS THIS YEAR - THE EXCELLENT S.T.P RECORDS CREW HAVE AGREED TO TAKE OVER THE OUTDOOR STAGE ON SATURDAY 9TH SEPTEMBER AT THIS YEARS EVENT.
As usual Profits going to the air ambulance charity . All compared by the legend that is Mr. Bad axe. Camping / hostel style rooms and glamping available but must be booked in advance,please call 01530814718.
For the first time you can buy advance weekend tickets priced at £15.00 from The Victoria Bikers Pub or from www.stprecords.co.uk and they will be available from January 1st. You can also pay daily on the door per day, priced at £7.50 so advance tickets save you a bit of beer money.
The event finishes at 9.00pm on the Sunday.
Hard Drive Festival, Coalville
The Victoria Bikers Pub, WHITWICK ROAD, Coalville, Leicester, LE67 3FA
Saturday 5th August 2017

Playing in
ARENA
9.55 - 10.40PM
Rebellion Festival, Blackpool
The Winter Gardens, Church Street, Blackpool, Lancashire, FY1 1HL
Saturday 8th July 2017
Randal Club, Slovakia
Karpatská 3089/2, 811 05 Bratislava - Staré Mesto-Staré Mesto, Slovakia
Friday 7th July 2017
Thursday 6th July 2017
Saturday 13th May 2017
Sunday 30th April 2017
Saturday 4th March 2017 with The Mahones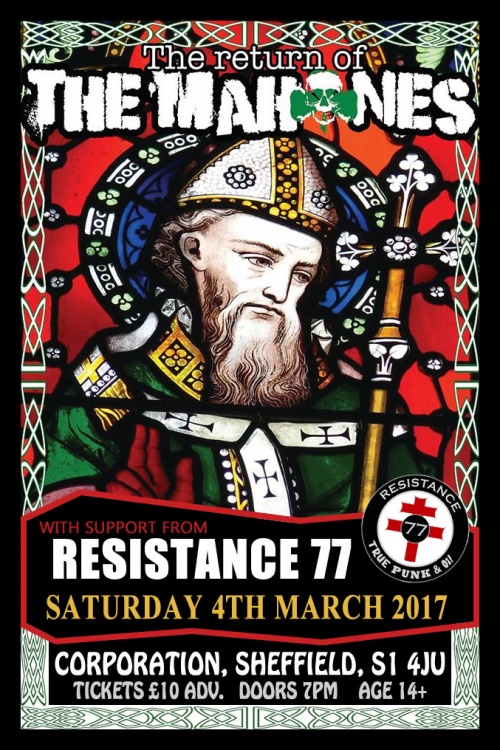 Door open at 7.00PM

Age 14+
Corporation, Sheffield
2 Milton St, Sheffield, South Yorkshire S1 4JU